Understanding Performance Art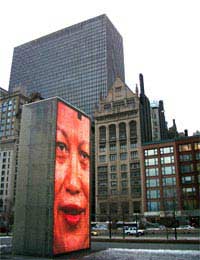 Performance art refers to art literally acted out by a human using their body, and often some props, in order to create the artwork. Performance art therefore differs from all other forms of Fine Art as it often leaves no physical object behind that may be owned as an 'artwork'. It exists as transitory and can never be repeated, making it difficult to buy or sell.
Performance art is not to be confused with the 'performing arts', which is a category incorporating all forms of entertainment and expression including theatre, film acting, mime, musicianship, comedy and so on. Whilst performance art may be classified as a performing art it stems form avant-garde Fine Art, particularly from the work of early 20th Century groups such as the Dadaists, the Futurists and the Surrealists.
The early performance experiments of these artists (such as when the Futurists staged 'classical' concerts only to blast the audience with abstract noise) were later built upon by Fluxus, the Situationists and by Feminist movements, along with other disaffected groups in order to meld a new language which found popular expression in the punk movement.
The Nature of Performance Art
Performance art is generally challenging and interventionist, using the artists body as a means of free expression in order to convey a message that is often political. Performances are often impromptu and held out of the gallery space, employing shock to catch people unaware in places where they may not expect to see art.
As with the work of Chris Burden, who had himself voluntarily kicked down every flight of stairs in a high rise block, for 'Kunst Kick' or Franko B, who was well known for having himself mutilated (whilst anaesthetized) and hung in various compromising positions for his performances (before he thought better of it and changed tack!), performers often push their own bodies to the limit. In this sense performance artists can be compared to spiritual ascetics who pursue harsh physical conditions in order to better understand their existence.
Not all performance art is overtly aggressive, however, as artists Gilbert and George demonstrate in their genteel and austere manner as they walk around suited, close to their East London home, observing the same cafe and restaurant rituals day in, day out. Their life has become a performance, echoing in part one of the central tenets of the avant-garde in general - that art and life should become intermingled in order to take bourgeois art off its pedestal, whilst drawing attention to the importance of the everyday and the mundane. However, Gilbert and George's actual artworks often confront sensitive issues, such as racism, homosexuality and immigration, making their daily manner seem at odds with the message they convey and therefore driving that message home with greater impact!.
Becoming a Performance Artist
Performance art has perks in that it does not require much equipment to set up. It does require, however, a willingness to be looked at for long periods of time and an acceptance of the economically precarious nature of performing your art. Aside from selling limited runs of DVD's (or other motion picture formats) of the performance and selling props (which you can do if you have a very good reputation) you will have to find funding from arts councils and occasionally from galleries, if they think you have something original to say and are prepared to pay (although many will ask you to perform for free and arts council funding is sparse!).
Many artists mix performance with their traditional practice. This is maybe the best route into performance and is certainly worth it if you have an exhibitionist streak, a nose for winding people up and a social message to spread! Though this will require ingenuity and occasional if you are to succeed as big name performer.
BUDDING ARTIST IS FOR SALE.
This website is for sale [more info].
You might also like...