Abstraction and Abstract Art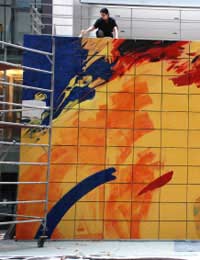 Abstract Drawing and Painting is often mocked by those who never paint or draw as the kind of thing that toddlers produce at play school. Like the Emperor's Clothes, the abstract painting is a trick played on sycophants by artists and agents keen to cash in.
Anyone who has tried abstract painting or drawing will take exception to this attitude. It is, sure enough, easy to scribble pencil on paper or oil on canvas, but if you show the results to an art school tutor a critic, or an honest friend, you will probably meet with scorn.
History of Abstraction
Abstraction is a process that was devised over a long period of time to best express a changing shift in human perception. So difficult was it to produce abstract painting that early attempts failed because the artists couldn't help but bring in identifiable elements, such as trees, or people (etc.) to the painting or drawing: Look to early Wassily Kandinsky (1866-1944) experiments for an example of this!
Abstraction aimed toward what all previous painting had aimed: to match, and even to surpass, natural beauty through the painting. If this could be done, man would be equal to nature, or to God. In painting something as great as the roiling oceans, the night sky, the notion of eternity, (or, indeed, death), artists struggled to escape painting the menial, the everyday.
One way of achieving their aims was, arguably, to start out from a depiction of reality and to break it down by gradually breaking its boundaries. In this way Piet Mondrian (1872-1944) started by painting trees and finished with paintings comprised only of coloured squares.
Later abstract painters were able to pick up on the influence of these early pioneers, and in so doing began to express more directly a sense of the timeless and the infinite. Jackson Pollock (1912-1956) and Mark Rothko (1903-1970) are great examples of this.
Later abstract artists such as Robert Ryman (born 1930) moved in another direction by paring the paintings down to their absolute basis in a bid to bring painting 'back down to Earth'. This attempt to de-mystify painting accords with a more general attempt to democratise art, as could be seen in the work of Pop Artists such as Andy Warhol (1928-1987), though himself not an Abstract artist.
Though such artists intended to point out that art needn't be about grand gestures, in so doing they demonstrated the beauty inherent in everyday simple things.
Starting Out with Abstraction
It is often said to the consternation of many students that one must learn to draw accurate representations of objects before going on to draw and paint abstractions.
As old fashioned as this may sound it is, arguably, very true. How can one expect to paint the 'infinite' or the majestic in nature before they can accurately draw an apple, for example!
Those wishing to start abstract painting would do well to start by painting landscapes, cityscapes and by contemplating the nature of existence. Other than that a keen eye and a will to develop drawing and painting skills should stand you in good stead to produce abstract pictures in time.
You might also like...