Pencil and its Use in Art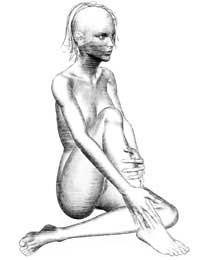 Pencil is one of the oldest artist's materials known today and is also one of the most widely used. Pencils are cheap relatively easy to use, mostly mess free and highly portable, making them the medium of choice for artists over millennia.
A form of pencil has been used since Roman times when a lead stick was used to mark papyrus. Since then lead and graphite have been used variously, often encased in wood, or even plastic.
These days pencil is often one of the earliest mediums introduced to pupils at school, and is often found useful as mistakes can easily be corrected by a pencil eraser, although students of an early age are often warned against this, it being thought better to build confidence in them, rather than have them erase their work at every opportunity!
Using a Pencil
One of the outstanding things about a pencil is both the precision and the range of lines that can be made. Pencils range in softness from 9H to 9B. This classification system ranks the hardest pencils as H, and the softest as B, with a numbering system from 1-9, with 1 or 9 being very hard or soft, numbers 8-2 decreasing in hardness or softness, H and F being merely moderately 'hard' and 'fine' and HB and B being moderately soft.
Using a full range of pencils a wide range of effects can be built up, although for creative landscape, portrait and life drawing it is most common to use pencils ranging from HB to 9B, which are softer and produce thicker bolder lines. Pencils from F to 9H tend to be used for technical drawing and produce a much softer, more precise line.
Pencil can be used in its own right for a finished artwork, in any style, but is also often use to mark up and plan out paintings, charcoal drawings, watercolours or pastel drawings. It is also often used in planning sculpture. The wideness of it use comes often from the fact that it is such a convenient medium for sketchbook activity as much as due to the fact that it can be so easily worked over, without showing any trace in the final work.
Pencil Exercise
It is easy to use a pencil, but a truly accomplished artist will know exactly how to use that pencil to get the effect that s/he desires. Doing this requires a knowledge of the full range of tones one can get from each pencil the range. Taking a set of pencils from HB to 9B and using one sheet of A6 paper for each pencil cover the entire of each page with pencil, being careful to draw a gradual change in tone from light to dark as you go. You can graduate the difference from light to dark simply by pressing harder on the page as you go.
Once you have doe the exercise using all 9 sheets of paper you will find that, placing each sheet of paper end to end in sequence from the HB example through to the 9B example, you are able to see the full range of tones available in the 'soft' range of pencils. You can then refer to these sheets when wishing to choose a pencil to work with.
You might also like...