Painting with Impasto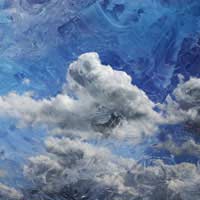 Impasto refers to areas of raised paint that serve to give the artwork texture and form. The use of impasto sets even a very realistic depicted scene, apart from a photograph, in its ability to convey texture and express emotion.
Impasto techniques were frowned upon for a great part of paintings history as painting aimed to erase any traces of its own manufacture. Any sign of the brush stroke in painting was seen to be vulgar and uncouth, and was usually attributed to poor painting skills.
Whilst Rembrandt was berated as being blind in the latter part of his life, and Van Gogh was accused of being a madman in the late 19th Century, both partly on account of their use of impasto, impasto has through the ages served as a fundamental element in painting.
Impasto can be used in one of two ways: either as an overall effect (as in the work of 20th-21st Century painters Leon Kossoff and Frank Auerbach) whereby the paint is thickly layered evoking a sculptural element, or as a more subtle effect bought in to contrast with flatter elements of the painting, as with the works of 17th Century painters Velazquez and Rembrandt.
Because raised paint holds the light better than flat paint, areas of Impasto are often used to add small highlights to areas in a painting. This involves a very subtle use of paint, creating a raised area high enough from the surface to catch the light, but not so pronounced as to dominate the entire picture.
How to Use Impasto
The use of Impasto is generally discouraged early on in a painters development as it is felt that a mastering of tone, colour and line are fundamental initially, and any interference from a building of paint may confuse these issues, as well as being costly, and sometimes messy!
However, to tell an artist not to do something is akin to giving them the full go ahead: Inevitably the budding Oil or Acrylic painter will at some point to experiment with raised areas of paint.
It must be noted prior to this that there is one main argument against the use of impasto: As sculpture is more ideally suited to conveying three dimensions than paint is, paint is best left to dealing with two-dimensionality. Put simply, painting at its purest must be flat.
However, one argument against this is that acrylic and oil paint are so ideally suited to impasto techniques (due to their thickness) that this element should be pronounced to differentiate painting from flat mediums such as photography and print.
In any case it should be noted that if your main preoccupation is colour then using very thick paint will do little other than leave a dent in your wallet (using thick paint invariably means using more paint!). Using heavy impasto should be undertaken in the interest in creating a subtle but sharp tonal contrast, or for its own sake, as in the very thick painted works of Kossoff and Auerbach.
OK, so now we have the debates laid out, it is really up to you to experiment as you wish. If you do want to paint a very thick painting, it is worth building it up in layers: This way you are able to experiment with every thickness of paint between the very thin and the very thick, thus coming to an understanding of the effects produced.
You might also like...
I would like to know if creating an art piece for the Blind utilizing the impasto technique with joint compound on masonite would be successful. Any other ideas would be appreciated as I am creating a piece that is to be auctioned off at a state convention.I have never tried this technique before. Thanks.
ellen
- 30-Aug-12 @ 3:10 AM