Using Line for Drawing and Painting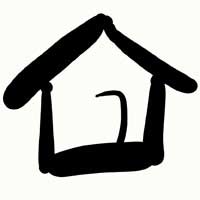 Line is probably the element of drawing most familiar to people from an early age and is the building block for the development of drawing skills. A line is a simple fine point traced continually around a page in order to evoke a form. A line can be used alone to outline the shape of anything. Lines can be continuous or broken and the variation between the two effects can produce wide contrasts in your drawing.
Whilst many people consider simple line drawing to be over basic and ineffective because no object on the world is comprised of line alone, it can nonetheless be a good graphical tool. It can also be employed effectively within the Fine Arts to create bold but simple drawings and etchings. The line drawings of Picasso (1881-1973) and Matisse (1869-1954) are particularly effective.
Drawing and Painting with Line
The main thing to remember about drawing with line is that you are specifically drawing with line. This means that you are not drawing with a series of tonal marks or sketchy dashes. A line is a continuous and flowing, or bold and dotted. The most confident line drawings are those that are comprised with one confident and continuous line.
Japanese calligraphy painting is a good example of this, wherein brushes or calligraphy pens are used to spontaneously draw/paint flowing forms. Of course, one line is not always possible or practical, and in that case a series of lines can be employed to describe a receding line, to draw the far edge of something, or to describe the effect of shimmering light on the line.
Line drawings can also be comprised of several lines, but the trick is to construe them as flowing and not ending abruptly before starting again.
A line can be as bold or as fine as one wishes, although the boldness of the line will impact on how an artwork comes across. Very thick lines will appear primitive or graffiti like, whereas as fine lines may appear ethereal and whispy.
Line Drawing Exercise
One simple line drawing exercise entails simply taking a white piece of string 50cms long, placing it randomly curled on a black background, and drawing it. This exercise will help you to gain confidence in line drawing. Try to draw the string as it curls around noting the ways in which you are required to adapt the line to describe changes in direction of the string.
Aim eventually to be able to draw your string formation as fluidly as possible. When you have done this you can take your string and trace it around the base of a shape, before removing the base and leaving the string there to draw it again. Or just place it randomly again, until you are entirely comfortable with your line drawing ability.
Once you have done this you can turn your attention to drawing anything you wish. Merely choose a scene and attempt to describe it in line. It can be as simple or basic as you wish. If you are drawing a house you can merely draw the outline, or may prefer to draw every single brick, window, door and other detail.
You might also like...