Collage, Paper on Paper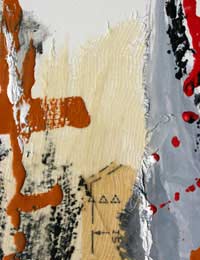 The term collage is derived from the French 'coller' meaning to 'stick' upon. The collage form in art consists of a number of small pieces of material stuck upon a larger background material. This usually entails the gluing of paper on to paper.
The collage has been used to great effect since the early 20th Century, when it was used by Dadaists, Cubists and Surrealists to suggest some sense of a disjointed and fast paced world. It has also been used by artists such as Henri Matisse (1869-1954) in order to play freely with colour and form.
The collage is neither a painting nor a drawing, yet arguably is related to both art forms and is of great use to the developing artist who uses paint or drawing materials.
The collage is a cheap effective way of planning out ideas and of freeing up your style. Often forms and ideas can be stumbled upon in the process of making a collage that would not otherwise have been discovered.
What is Collage?
When considering how a collage differs in essence from a drawing or painting, it is useful to approach it as the gathering and reconstitution of existing material: It is a little like recycling. In this sense collage affords the opportunity to take and rehash cultural artefacts such as the newspaper, the magazine, the letter from the bank, and so on.
By doing this it is possible to collate differing elements of life and turn them upon themselves in much the same way one intends to do through observation and painting/drawing. It is for this reason that the collage can be such a useful medium in throwing up new associations and ideas.
Collage Exercises
In order to make a collage it is useful to have collected a number of scrap papers, magazines and other bits and pieces such as string and scrap fabric. From here try a simple portrait collage from a photo, either from a magazine, the Internet, or from your own collection. Try recreating the image of the subjects face using the most appropriate colours, words and images that you find in your collection of waste materials, gluing the pieces you choose upon a sturdy piece of A2 cartridge paper.
Alternatively try making a collage based around a social message or theme. A good one, for example, would be 'the environment'. Using this brief, pick images, colours and types of paper that accurately convey what the term 'environment' evokes for you. You needn't make a traditional picture, but can, rather, make an artwork that conveys a message through associations between the different images you choose to glue onto your A2 sheet of paper.
These exercises are designed to help you take a less literal approach to drawing and painting.
Once you have finished your collages can even be drawn or painted upon, to whatever extent you wish. Similarly, elements of collage can be applied on to a drawing or painting, allowing a further opportunity for experimentation.
You might also like...