Artwork Preparation and Equipment You May Need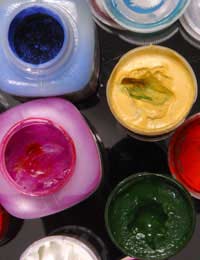 The preparation of materials prior to starting work on a piece of art is one of the essential stages of the art and design process. There is no one way to get started, and a lot will depend on what material you are working in and what you want to achieve, but there are some general guidelines you should follow. Find under the following subheadings some tips that you may take and apply to your individual practice.
Planning Ahead
Nothing stunts the creative process more than starting an art piece only to realise that you are using inadequate materials, or you that do not have enough materials to finish a project. For example, if you prepare an insufficient ground to paint upon - a canvas that is not properly primed, or a board with splinters sticking out - ,to take two examples, you will find that paint does not apply smoothly or evenly, and that you may need to use more than you normally would in order to get the desired effect. Preparation, again, is the key to realising your vision within the finished art piece and avoiding pitfalls that can be costly financially and in terms of quality.
Always plan ahead when buying materials, either stocking up well in advance, or shopping daily to ensure that materials last, and are of a good quality. In planning you will ensure at least that if faults occur it will not be for lack of materials or due to supplies being of an inferior quality.
Working in an Orderly Space
Artists revel in the cliché attached to working in a messy studio, strewn with paints, paper and scrap materials. The truth is that, for most of us, good works will come out of clean spaces. That way you can see what you are doing and will be able to prepare for an artwork in the knowledge that accidental damage is less likely and that the preparation of an artwork will not affected by stray objects, dust (which can be a big problem if you are working to a high specification – all blemishes and unwanted marks will show up on a high specification work), dirt, and so on. Finally, be sure to keep all paper works in appropriately sized 'portfolio' sized folders. Your creative work will not get to be seen in a gallery if you don't take due care when it is in your studio or work place!
A Generous Supply of Everything
Art can be planned ahead, yet there is often an element of spontaneity involved. For this reason one cannot always know what they might need next, especially as Modern and Contemporary art can be made utilising just about any material known to man.
Providing you have the space it is a good idea to have to hand just about anything you may plausibly need: Only you can know what this might entail. Scrap paper, magazines, newspapers and inspirational printouts are a must for inspiration or for collaging on to works. Any type of tool you can get your hands on will also come in handy: drills, hammers, pliers, glue guns, staple guns, and so on. Tools will always come in handy, if not for the use they are intended for - so be sure to beg borrow and steal in order to get the full kit! Remember also buckets, pots and other containers. Once you get in the habit you are not going to want to throw anything away – that's great, just so long as you keep a tidy space!
Of course normal art supplies are a must too. See related articles for specific equipment that you may need, and remember that lots of pencils, pens and paper are invaluable whatever medium you work in. Brushes (always cleaned after use) are also vital for the painter - buy a good selection and store them in order of size for ease of use when painting.
Overview
We can't tell you exactly what you need to do before starting on your artwork, or what you need in the way of materials, but a careful approach to planning, along with a generous approach to accumulating materials and supplies is needed if you want to prosper as an artist. This essentially means that, aside from sketch book planning (see related articles) the work really starts long before you start drawing painting or sculpting.
You might also like...