Producing a Finished Work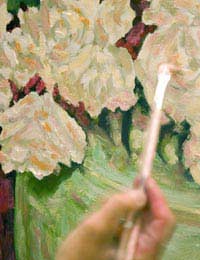 Whilst starting a work can be difficult, finishing can be equally tricky, demanding a level of awareness that can often leave a budding artist flummoxed! Often knowing when and how to finish a work sets an inexperienced artist apart from an experienced one.
Problems Surrounding Finishing an Artwork
There are principally two main mistakes when approaching finishing an artwork - finishing too soon and not knowing when finishing would be a good thing. In the first case an artist will be over content with their result and fearful of pushing through with their work to a stage beyond what comes most easily. In the latter case the artist will not realise when they are on to a good thing and will push the artwork too far, erasing the traces of the original picture and overworking it so as to ruin it.
In both cases it is a good idea to have a clear objective in mind and to work to fulfil that objective. Certainly, chance can play a part within an artwork, but it is best practice to have a clear intention of the outcome you want, so that you can work to that point and no further.
Returning to a Work
When you have gained in experience and become more ambitious you might consider reworking some of your old 'finished' pieces. This seems to go against the advice given, but it is true that the benefit of hindsight allows changes to be made over time, as with the case of Picasso's groundbreaking Les Demoiselles d'Avignon, which was reworked over a few months. This only works insofar as you still employ constant revisions to achieve a certain effect, and not blindly for the sake of it.
Often these revisions will be apparent in the finished work and will contribute to the feel as a sort of 'labouring' effect. However, one would need to engage in this kind of reworking of a work over time knowingly and with intent, rather than haphazardly!
Going over and over a drawing, for example, may enable the artist to avoid the pitfall of leaving the work in its early stages, before it is really ready to be termed as a finished piece. It may however, result in the work being over managed, resulting in a brown mess of paint or a grey fog of a drawing that is beyond redeeming. That is why experience is the best assurance that work can be finished appropriately and to a reasonable standard.
Random Methods
Some people really do prefer to work without and set intention and to follow their instincts or to employ random chance as an artistic method. Historically speaking, Abstract Expressionist painters (e.g. Jackson Pollock) and Surrealists (such as Salvador Dali) are two good examples of artists' that have been led by their subconscious in this way. This still brings a certain responsibility, however, to finish the artwork in a way that is coherent either conceptually or visually (and often both). In this respect to finish a work, regardless of what approach you take entails producing a work that in a sense (whatever sense that is) delivers a coherent message to the viewer. To ascertain whether this is so may require a critical distance from the work: it is very hard to see how a work might be received when you have been working on it so hard. Even of you imply a random method, the principles governing whether a work is finished are never entirely random.
You might also like...