Drawing Sensations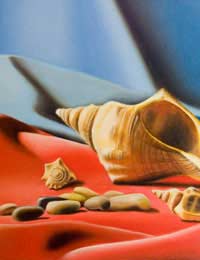 Beyond the visual reality of life that can be seen there are a number of 'sensations' that are experienced such as smell, sound, touch and hearing. If painting could not evoke these sensations in the mind it really would be a very limited medium.
Although it seems to defy logic to say that an artist can evoke the smell of a fish, the sound of a steam train, or the feeling of rain lashing against ones face on a stormy day, if we look to the work of the masters we can see that the ability to do this is often what sets them apart from the everyday artist.
With regard to the sensation of stormy weather, for example, J.M.W Turner, whose works can be readily seen in both the National Gallery and Tate Britain, was virtually dedicated to its representation, and with great success. It is unclear why his works should be able to evoke real sensations in the mind, other than to say that this rendering of paint is so masterful as to suggest to the brain that one really is seeing a storm. With regard to the smell of fish, one need look no further than Dutch Still Life painting, in whish food stuffs were so brilliantly rendered so as to evoke strong memories of real life experiences of those foods.
Exercise in Drawing 'Sensation'
It is unclear precisely how one might draw sensation, except to say that each artist must develop their own visual language. One good exercise to help one develop this skill is to buy some fish from the local monger and to set up still life incorporating that fish (the simpler the better, so that the sight and smell can be evoked).
Trying this exercise over a course of days or weeks, using fresh fish each time, you may wish to read 'Perfume', a novel by Patrick Suskind, which brilliantly describes the smells concocted and experienced by a murderous Parisian perfume maker. The book, which excellently describes smells, will help you to better understand that it is possible to convey sensations through an artwork that does itself not bare smell whilst also influencing you to a richer understanding of smell.
Another exercise may entail trying to draw texture, as it feels to the touch. This could be achieved by arranging a still life comprising of richly assorted textured objects, such as fur (or fake fur), chestnuts, polished brass, shells, meat and fish. Having to draw the difference in textures will really force you upon all of your mark making abilities, and will further emphasise, by contrast, the textures of each object.
By further undertaking exercises that emphasise noise (such as a drawing of a busy city scene) and taste (which is linked to smell, although cooked foods may be better to convey this than raw fish and meat) you will be able to combine eventually all of these sensation into a rich drawing that evokes all of the senses in the imagination of the viewer. Essentially this skill resides in a sumptuous ability to really convey the presence of the objects you are drawing.
You might also like...