Thinking Outside the Box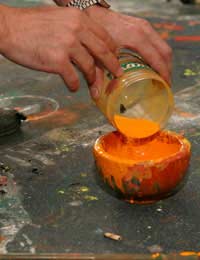 The term 'thinking outside the box' is best known as an Americanism and one that has begun to grate following its repeated use on real life chat shows such as Ricki Lake and Jerry Springer. However, there are undoubtedly times in the making of art that 'thinking outside the box', in many interpretations of the term, can be useful.
The term actually means to think aside from the usual train of thoughts that occur in a linear pattern. This is undoubtedly fundamental to creating artworks that are categorically different in nature to mathematical or scientific procedures: Art is the discipline most concerned with giving free rein to ideas and impressions that occur in random and shifting patterns – it is the realm of dream, and as such cannot be 'boxed in'.
Thinking outside the box is also a good term when applied to drawing and painting as most drawing and painting occurs within the confines of a rectangular 'box' format (the page or canvas). This often leads people to fell restricted, working to 'fit things in', or cramming things in, so that may not 'leave anything out'. Working in the rectangular format can both affect the way you view your artwork as it develops, and the way you see your subject (landscape or portrait).
Remedy
There are many ways to free yourself up and avoid working to over methodical formulas when drawing and painting, many of which are covered in accompanying articles. Whilst bearing these in mind, what we will focus upon here is how to overcome the 'tyranny of the page' in front of you and the 'boxed in' mentality as you try and fit your subject within four borders.
One major mistake is for the artist to pay less attention to the edges of their drawing then to the centre, as if anything towards the edge of the painting is somehow unimportant as it is moving towards the paintings 'end'. This is typical of the overall 'boxed in' attitude, which acts as if the painting is of a scene that ends where the painting ends, rather than as if (in reality) the painting is a snapshot of a scene that continues on for miles around.
The trick is not to perceive the drawn or painted line as finishing at the margins of the page or canvas, but to conceive of it effectively continuing indefinitely.
Likewise, many people make the mistake of trying to view the scene or subject that they are painting as isolated from its surroundings, when in actual fact its surroundings are intrinsic to it. When you are drawing or painting, try not to consider the scene that you have chosen to depict in isolation, but take into account its surroundings, any relevant social aspects, what might be happening in the scene an hour, or a day from now, and what may have occurred prior to your arrival. In doing this you will be able to build up a fuller scene that will appear more rounded and realistic than if you simply aim to fill a rectangle with whatever seems to fit in at the time!
You might also like...