Freeing Yourself Up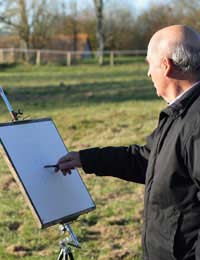 There is a tendency for the beginner artist to tense up when first drawing. This is perfectly natural and derives from nervousness as to the outcome of the drawing. Especially when drawing amongst a group of other people the tendency is to place huge significance on the quality of the work as though all eyes are on you. Accordingly the build up of pressure leads to a build-up of tension in the body and arms resulting in poor posture and restricted movements.
On a more creative level bold statements are avoided for the fear of the wrong kind of statement being made – leading to people rejecting or laughing at your artwork. This kind of fear is well documented even amongst famous artists, yet with the correct approach this fear can be turned to your advantage.
The main thing in either case is to be more fluid in your movement than rigid. The tendency when stressed is to tense muscles ready for action (the 'fight or flight' syndrome). Yet if these muscles remain tense free movement becomes stilted. In a similar sense the movement of ideas can become paralysed by tension. A few simple breathing exercises and the correct mental attitude can help to improve your creative flow.
Breathing and Posture
It is important to maintain a good posture when drawing. If your shoulders are hunched and you are not presenting an open standing pose you will breathe less easily, leading to a restriction of movement and of oxygen to the brain. Your ability to see the subject accurately will also be impeded if you do not have a relaxed and open pose with your head held high. Quick, darting, hunched glances at the subject will produce a sketchy picture, ill informed by a poor quality of observation.
The key is to stand or sit with your back straight and your legs evenly paced apart, with feet flat on the floor. From this position maintain steady and natural breathing. If you do tense up then try counting breath's, observing the rise and fall of each breath. Counting in cycles of four is fine.
Good Mental Attitude
It is important firstly not take your drawing over seriously, but to appreciate it as the representation of the passing of one moment in time. When you have finished drawing allow yourself to let go of that drawing, instead of obsessing over its qualities.
Be positive about your drawing skill as you are drawing and you will gain the maximum benefit from it. Remind your self that you are a complete and capable artist and that all that appears on the paper is a product of you. Relaxing your mind in this way should enable you to create more openly and freely.
Remember, finally, not to be in competition with yourself or others, as it is competition, which fosters the fight of flight syndrome. Art must be a generous activity undertaken alongside other artists in a bid to better define and even improve our surroundings. Taking this approach you will have little to fear from the responses of other artists or art lovers to your artwork.
You might also like...
I love drawing so much and I will like to be one of the best artist in the world
Onye iwe
- 4-Dec-17 @ 1:14 PM