Contextualising Your Work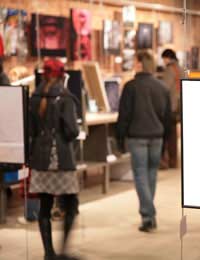 Many an artwork and artist has been separated from their peer group merely on the basis upon which they contextualise their work. In some cases two artists with near identical work will follow vastly differing career trajectories due to the different way they talk and write about their artworks. This is essentially because art operates by dint of an 'illusion': The artwork had originally been an illusion aimed at presenting as reality what is really a painted or sculpted form – at some point in the history of modern art the illusion shifted so that any object may be called art. The 'trick' of art became in designating things as 'art' and ever since ideas that surround art and what art is and is not have become as important (and sometimes more important than) artworks themselves.
What This Means in Practice
Essentially this means two things:
1. Whilst you may make a brilliant artwork it may not stand up to the criticism of the art world if you do not have a reason for producing it.
2. If the reason behind what you make is sound enough the artwork can itself be quite banal.
In relation to the first point it is important to remember that a very good work will support it self and that not having a blinding idea behind it will not damage it: However, having a bad idea behind it may cause people to cringe. The important thing here is to exercise due caution and to judge precisely how much the audience needs to know. Loading someone with information may be a bad idea if all they need is an outline of what was going through your head when you made your piece.
In relation to the second point remember that a great idea cannot make a terrible artwork good except in the rare case that you are deliberately presenting art that looks 'bad' in order to make a point. This latter case is rare because even in making something look 'bad' you need to exercise your judgment in order to present it as looking deliberately 'bad' (which can be quite effective) rather than just looking like a poor piece of art. In most cases the best idea needs to be supported by a good work, although that work need not be magnificent – nearly blank canvases or simple household objects can suffice as works or subject matter if executed and contextualised in the right manner.
The best way to contextualise a work is to ask yourself why you made that work, which is surely something that you will know, even if it requires some delving and some honesty. If you made it just 'because', or just so that you could get to see the work that you always wanted to see you can say that, but bare in mind the fact that this places you in a category if artists more concerned with appearance than with big ideas and you may therefore have to defend your self in these terms against artists that make works for social or political reasons. You may even argue, as many have, that the best way for an artwork to be socially useful is to focus merely on outward appearances as to engage in politics would be to become part of a corrupt system. In any case be sure to be true to yourself.
Alternatively, you may wish to say something very socially or politically involved, or you may wish to say something about the philosophy, literature, science, fashion, the history of art, and so on. In these cases you must be sure to have clear in your mind what you wish to express, keeping close to the artworks themselves. If you say something about your work that cannot be in any way ascertained from looking at the work it will be picked up on, often too much amusement and derision! Again the same is true as before – ultimately remain true to yourself and to your goals.
It is often the case that you may be asked to contextualise your work in writing for either gallery submissions, funding application or exhibitions. This can be intimidating and can make an artist look foolish if they attempt either to be too jokey or casual, or to be too wordy or serious. Do not overstep yourself, and if you have trouble writing try to gain the help of those around you.
When asked to talk about your work keep things simple as words can often elude one when under pressure or talking in groups. Certainly don't try out a completely new angle on existing ideas and try to cater to the fact that your audience may not be familiar with technical or theoretical terms.
You might also like...
Dear Mr Watson, I have been working relentlessly for 40 years through Art, writing, performance based expressions in theatre, dance, music and education and have only this year found an opening in me that's daring me to contextualise my life's work. As you can imagine I'd rather just keep swimming then to step out and appreciate the waters that have been my ocean of love n belonging I'd be very grateful if you would agree to mentor me or give me some guidance. I'm a single mother and this would greatly help my prospectus if placing my work in the right hands. Hope you will reply soon . Yours nervously, Dee
Are there clear steps and guidelines when contextualizing?how many and what are they? thanks
BEY MAX
- 28-Feb-13 @ 11:42 AM
Dear Mr Watson, I just wanted to say how much i enjoyed reading this peice. I am not shy of 40 years and graduated in textile design and have followed a design and art path. Reading this peice brought me back to 'Contextual Studies' as an undergrad, where its such a shame you were not our tutor (though he was a lovely man!) Perhaps you would have provided us with the clarity many of us lacked in respect to the subject we were attempting to grasp. In fact your last line "try to cater to the fact that your audience may not be familiar with technical or theoretical terms" but i guess thats one fault of 'old style' leactures/teaching. Anyway i just wanted to say how much i enjoyed reading this and how well you articulated the subject. Many thanks, Maria
Maria
- 5-Jan-12 @ 11:54 AM