Developing a Style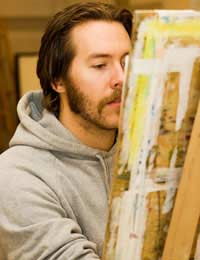 Many beginner artists become immediately fixated with developing for themselves a style to work within. Whilst it is important to develop a coherent style it is not essential to develop a completely individual style early on. In fact, it is arguably not even possible to develop a completely individual style at all!
Many artists fall short because they wish to somehow conceive of a style that is completely theirs. The trouble here is that pressure gets built up and the results are often less impressive than if the artist had just gone about drawing or painting naturally, in order to then see what came about.
The fact is these days it is completely natural for artists to mix the style of there forebears. It is also true that whilst all people are similar, everyone is unique, so it follows that your work is liable to be like someone else's in many respects, but that it will also bare a unique hallmark that is specific to you.
Approach to Style
The many factors that will affect your style include your medium, your chosen subject matter and your physicality. Other factors include subconscious elements and the range of influences you have. Once you have decided upon your subject matter all of these factors should shine through with no trouble. The key then is to refine style, merely by letting the aspects of your work that seem to work well develop, whilst letting go of those aspects that do not work well. This latter process is the hardest part, and it really is sometimes difficult to be self-critical.
The best approach is to maintain a critical distance from your work. Avoid looking at it when you are not working on it and when one painting is finished move on to another. The key is to not become over precious about your work. If you can do this you will naturally develop your style as improvements are made and a coherent pattern starts to emerge in your work.
Once you have started to develop a style by which your work can be clearly identified it is important not to become too restrictive within that style. It is all too common for artists to settle on one style on an early age, simple repeating that style again and again over decades. Whilst this may suit gallerists and art collectors (especially if the style is highly marketable) it in many senses defeats the point of being a Fine Artist as one primary aspect of painting and drawing is to develop with time, documenting the changing attitudes of the artist and the changing world about them.
Don't be scared to develop and change style, a great many artists have prospered by employing many different forms of expression. German painter Gerhard Richter, for example, has employed styles as diverse as abstract painting and photo-realist painting, often alternating between the styles.
Remember ultimately that as an artist one exists within a wider historical context of which we are all part. In this sense it can actually be beneficial to copy elements of the style of painters throughout history. This demonstrates an acknowledgment of the world that you exist within.
You might also like...