Combining the Elements of Drawing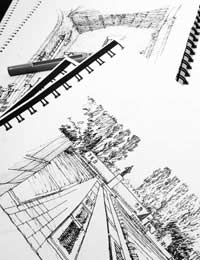 Once you have understood the main elements of drawing (discussed in 'The Elements of Drawing and Painting) the next step is to combine them harmoniously to create a complete and finished artwork.
When you have composed your still life or chosen a landscape, and have dealt with your initial inhibitions it should be possible to observe the different elements of drawing at work, and to bring them all in line together. This will depend partly upon choosing the right subject, but with a little practice this will come as no difficulty.
It is all important before doing this that you are sure of what it is you wish to achieve. Certainly, a good finished drawing can be achieved that is predominantly a 'line' drawing, or predominantly a 'tonal' drawing. However, you must know before you approach the drawing what it is that you would like to achieve: a drawing that looks like a half cooked attempt at a tonal drawing will not cut the mustard! Similarly, a line drawing with weak sketchy lines will appear amateur and unconvincing.
A lot of this rests upon the viewer seeing that you are personally sure and convinced of what you are drawing.What is required is concentration and dedication in order to faithfully reproduce the tones, lines and textures that abound in real life: Real life is not comprised of sketchy outlines and uncertain mid tones!
Getting the Balance Right
Combining the elements of drawing involves getting the balance right between tone, line and texture and appreciating that they are all in some way related. Each of these pillars of drawing must in some way contain elements of the other pillars. For this reason, to balance all these elements, or to focus mainly on one, involves an intense game of 'push' and 'pull', in which the elements will affect each other constantly until they eventually all sit comfortably together.
The only way to really achieve this is to be constantly self critical. This does not mean being overly harsh on yourself, but rather simply refraining from being over pleased with yourself: it is at the point that you are most happy with your work that you risk missing the obvious faults! A detached survey of the differing elements as they relate to each other is very beneficial to the finished work.
Look at the work and ask what part of the picture dominates, if any? Also ask whether the tones and lines a strong and confident: Are the lines necessary, or could tone be better used in place of line?
By subjecting your work to such scrutiny you will be able to better judge it, and over time bring all the elements of drawing together to achieve a coherent artwork.
This is all best achieved if you have first understood the separate elements of drawing. However, once these elements are understood it is possible to see how they flow into one another. So once you have mastered tone, line and texture, try focusing on a drawing that incorporates two of these elements: i.e. texture and tone. In this way you will gradually build you awareness.
You might also like...