Setting Up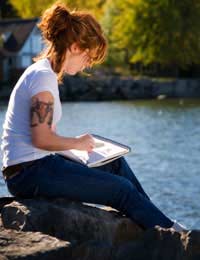 Your ideal set up will depend partly what it is you wish to achieve. If you wish simply to sketch in a sketch book there is little that needs planning, except that you will want a sketchbook comprised of the right paper for your task, and you will want to ensure that you have plenty of drawing materials, so that you do not run out.
If you are planning something more ambitious you may wish to consider a number of other factors, and in that case you may want to assemble a suitable kit.
Drawing Kit
The following items make up a comprehensive drawing kit. Please note that you will not need to carry all of these things each time you wish to draw:
Charcoal, Pencils, Colour Pencils, Pastels.
Fixative Spray: to 'fix a charcoal image after completion, so that it does not smudge.
Normal Pencil Eraser and Malleable Putty Rubber.
Masking Tape: To stick your paper to (on each corner)
A drawing Board, slightly bigger in each dimension than A1, so that it will comfortably fit even an A1 sheet.
Artists Easel: a wooden frame on which to hold a drawing board, also useful for holding stretched painter's canvases.
A variety of sketch books: even though you may use only one at a time it is useful to have a least one pocket sketch book and one larger sketch book for scaling up ideas.
Appropriate paper: This will depend on whether you are making a sketch or a final artwork, and on how you wish to treat the paper: Thin paper can rip under heavy use (if so, masking tape can be used for repair).
A Straight Edge: should you need to draw a straight line (though remember that this is often discouraged in drawing classes!).
A Craft Knife: should you need to cut paper. Use with straight edge.
A View Finder: Simply a piece of card, about a5 in size, with a rectangle cut in the middle 2cm from each side, leaving a space though which to look and select views in roughly the same dimension as your page.
Clothes that can be dirtied.
Maintaining a Good Working Environment
Other than having your drawing kit in place and set out in an orderly manner (with everything you need close to hand) it is essential to maintain a good working environment. If you do not have a studio then set out a space at home to keep your things and put up your works, so that you may better look at them.
If you are working outside, you may find it difficult to maintain your usual set up, but do your best to still have things kept together. If you do not have a tidy set up, you run the risk of making spur of the moment decisions based purely on what is to hand, rather than based upon what you really have in mind (although this can have sometimes interesting 'chance' results).
Other than this, your set-up should be comfortable with a good view of your subject and your easel correctly adjusted (if you use one). If you have back problems choose a comfortable chair.
You might also like...