Choosing a Subject to Draw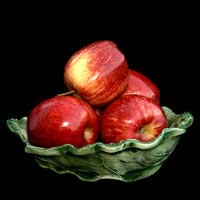 When starting out many people find it difficult even to choose a subject to draw. This is of course not so important if the beginner artist is attending a regular class. However, even if this is the case the decision will one day have to be made on what to draw. Commonly, people are often told to draw objects that inspire them, and respond by attempting to draw a stack of CD's, some clothes or some characters from a computer game! These subjects do not possibly present the best challenge and for this reason we will consider some other subjects that may be good to draw.
Good Subjects to Draw
There are many easily found subjects around the home to draw. One must remember early on that the aim is to choose objects to draw that may help to develop skills. A selection of widely varying items for a still life composition may in this case be suitable. Try, for example, fruit, nuts, fake fur, bottles, leaves, lit candles, meats and so on.Alternatively try drawing a family member or objects in your garden (trees and plants, etc.).Outside the home street scenes and landscapes can be drawn. Cars and bikes can also be challenging, and make a good drawing exercise. Drawing passers by can also be a good challenge, as it requires a speedy awareness of the passing of time.
Once you have drawn many scenes for the sake of exercise it will then be worth tailoring subjects more to suit your taste. Personal stylistic factors, fashion preferences and social attitudes can be bought into your artworks. It must be cautioned, however, that these are best introduced in a subtle way. It is well worth taking into account that much of what we see in the way of popular media culture is directly influenced by the Fine Arts, and for this reason your interests can be explored by drawing comparison with master artists from the past.
For example, those interested in rapidly advancing computer technology may wish to look to the Futurist movement to see how they dealt with rapidly advancing technology in Europe at the turn of the 20th Century. In doing this, for example, your subject can be treated within the wider framework of art history, giving it more credibility.
If you are interested in fashion it is well worth looking to the work of Picasso and Matisse, who have greatly influenced print designs. If interested in social politics or Feminist issues, you can look to how Diego Rivera (1886-1957) and Frida Kahlo (1907-1954) addressed these issues.
By looking at how past artists have incorporated subject matter into their work you will be able to better choose your subject to convey your personal sense of taste. Once you have done this you can combine your new subject with the skills you have learned from earlier landscape and still-life exercises. In this way you can make sure that your pictures combine various elements of tone, line, colour and form within them whilst reflecting your personality.
You might also like...