Facing the Blank Page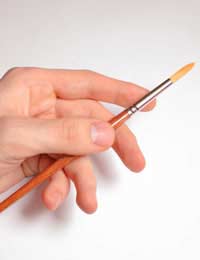 There is a well worn cliché about the strife and anguish artists and writers feel in face of the 'blank page' or indeed, these days, the blank computer screen!
The blank page is said to be associated with writers or artists block, a condition that is said to have prevented novelist Henry Roth from committing anything to paper for 60 years! Fortunately, this kind of block is normally short lived, and where it is related to the blank page or blank canvas is relatively easy to cure.
Psychologically speaking, the difficulty one has in thinking how best to approach a blank page arises out of a fear of failure. One feels that whilst the blank page is still there any number of incredible possibilities lie ahead, yet once one marks the page, with pen, paint, pencil, and so on, one runs the risks of ruining those possibilities. Here the possibility of action is associated with the possibility of potential failure.
Combating this psychological tendency entails simply turning this rather flimsy logic on its head: It is surely the case that no great achievement can be made without action, and whilst action can lead to failure, failure can lead to new lessons learned, and thus is never failure as such!The only path to making a good painting or drawing is to start drawing: It's as simple as that!
Marking the Page
The attitude that goes hand in hand with a fear of marking the blank page is likely to lead to a poor artwork even when the first painstaking mark has been delivered upon the page. The reticence that finds it so hard to mark the page will probably lead to very tentative sketchy first marks. It is not until the 'devil-may-care' attitude has really sunk in that the 'block' can be said to truly be lifted.
One way of forcing this situation is to deliberately and aggressively mark the page in a way that is unsightly: Scribble over the page, cover it in charcoal or pencil marks and make it look really bad. I doing this your worst fears will have been realised, and from there the only way to redeem your drawing will be to work hard to turn the mess you have made into something credible!
This exercise directly challenges the fussy approach that you would otherwise naturally take. In a sense it teaches you to take the same approach you must take in your everyday life if you are to achieve anything. You would, unless ill, approach a momentous day ahead by staying in bed afraid to get up or make a movement lest you ruin all the dreams that lay ahead of you. Sure enough, a certain amount of self-belief is needed to proceed into the unknown, but for any successful person to hide from life altogether is just not a viable option. The result of such inaction makes for a poor life, as it also makes for a poor artwork!
Once you have grasped the mental attitude necessary to counter the blank page syndrome you will be able to work more easily and more confidently, thus developing your style and technique faster.
You might also like...