Wrong Hand Drawing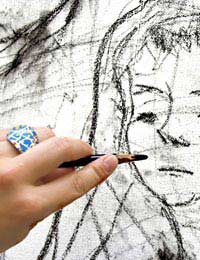 There is a tendency early on in the development of an artist to develop a restrictive style based partly upon the desire to copy more accomplished artists. This can become problematic as it not only hampers possible alternative developments but also very rarely compares in quality to the work of the master artist that the beginner intends to emulate.
Put simply, whilst one may achieve a surface look akin to a great artist, a great deal of flexibility, practice and experimentation is needed before settling upon an effective concretised style. Many great artists historically have not developed the style they are famous for until the second half of their lives, sometimes the final few years!
Once a beginner artist has got accustomed to drawing in an affected style, it is difficult to get them to relax and let go of this style so that they may develop further. The tendency is, for the artist, once they have achieved a minimum of skill, to become once again over cautious and to protect that skill by seeking not to take any risks and advance any further.
Wrong hand drawing works on the premise that as most people cannot draw very effectively with the hand that they are not used to using, being forced to use this hand will prevent them from relying on the safe tricks that they have developed.
It also follows that as the left and right hands are controlled by different sides of the brain, using the hand that you are least used to using will enable you to strengthen the side of the brain that corresponds to that hand: i.e. the left hand relates to the right side of the brain, which controls creative impulses and the right hand corresponds to the logical 'right' side of the brain.
The Exercise
The exercise is simple and requires merely that you draw a familiar person or scene with the hand that you don not normally use: If you are left handed use your right hand and vice-versa.
By using a scene that you have drawn often with your 'usual' hand you will be able to note the difference in the drawing undertaken with your other hand. Noticeably, you will find it harder to draw with the wrong hand, forcing yourself to - to some extent - accept the crude marks and lines made with the wrong hand.
In doing this you will become free from your accustomed style and may even find that your drawing is somehow bolder than those you usually produce. This is partly as you are freed from your existing habitual routine by dint of the fact that you do not expect to produce a good drawing: accordingly you may actually stumble across a whole new system of line or mark-making that can be later utilised.
Comparison with a drawing of the same scene undertaken with your 'usual' hand will demonstrate that whilst a 'wrong hand drawing' will not, in all likelihood, produce a great physical likeness, it will produce a strong emotive image, borne partly of the struggle to work in a way that is difficult. The lesson here is simple: good artworks are not necessarily produced out of a sureness of style, but often put of an uncertainty, and a working against the odds.
You might also like...